The 40th anniversary of the Canadian Charter of Rights and Freedoms 
Proclaimed on April 17, 1982 by Her Majesty Queen Elizabeth II, the Charter has played an important role in addressing the inequalities in Canada and defining the values of Canadians.
The document was borne with the objective of ensuring that all Canadians live a life without discrimination of any kind. It outlined, among others, our guaranteed rights related to official languages, democracy, equality and multiculturalism, as well as our legal rights to life, liberty and personal security. Section 25, meanwhile, of the Charter also recognized and protected the rights of Indigenous peoples.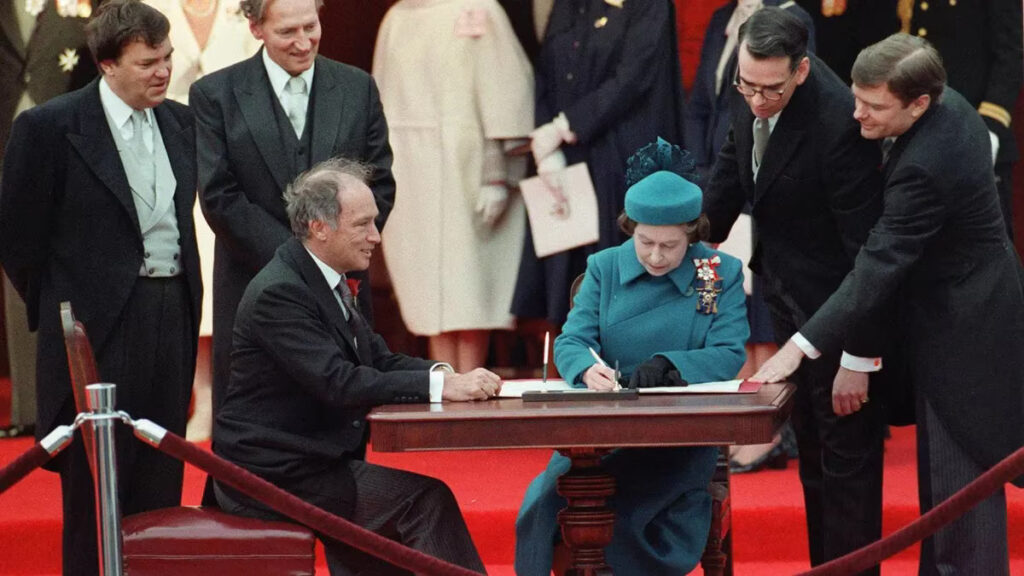 Commemorating the 40th Anniversary of the Canadian Charter of Rights & Freedoms: Panel Discussion
In our History of Social Change Conversation: Looking back, looking forward, a panel of legal scholars and practitioners discuss the evolving role of the Charter, its strengths and limitations and the important role it plays in their work. The panelists then highlight the Charter cases they believe hold particular significance on how Canadians live their lives, before examining the controversial Notwithstanding Clause, its challenges, and whether it's being used according to its original intention.
Adam Dodek - Bio
Adam Dodek is a law professor in the Faculty of Law at the University of Ottawa. He has taught  Public Law, Constitutional Law, Legal Ethics and Professional Responsibility, Torts, and a seminar on the Supreme Court of Canada. He served as Vice Dean Research from 2012-14 and as Dean of the Common Law Section from 2018 until June 2021.
Professor Dodek is the author of more than 50 academic articles and book chapters. He has authored or co-edited ten books in his areas of research interest: public law, the legal profession, the judiciary and legal ethics. His book The Canadian Constitution was named by The Hill Times as one of the Best 100 Books in Politics, Public Policy and History of that year. His book The Charter Debates: The Special Joint Committee on the Constitution, 1980-81 and the Making of the Canadian Charter of Rights and Freedoms was published by U of T Press in 2018.
Jamie Cameron - Bio
Jamie Cameron is Professor Emerita of Osgoode Hall Law School, where she was a full-time member of faculty since 1984. Over the years, she has taught and written widely on a variety of constitutional and public law issues, including the Charter of Rights and Freedoms, freedom of expression and the press, US constitutional law, judicial biography, and criminal law.  She has extensive publication and editorial experience, including the Board of Editors for Ontario Reports (since 1990); she is a past editor in chief of Osgoode Hall Law Journal and an editor or co-editor of more than twelve books. Her professional service includes the Board of Directors and Advisory Board for the Canadian Civil Liberties Association (for over 25 years), BC Civil Liberties Association, Centre for Free Expression, and Harry Crowe Foundation. She was a member of the Ontario Review Board (2013-2022) and Nunavut Review Board (since 2018), both of which are adjudication boards dealing with mentally disordered criminal offenders.
Cara Zwibel - Bio
Cara Zwibel is the Director of the Fundamental Freedoms Program at the Canadian Civil Liberties Association (CCLA). She has been with the CCLA in other roles since 2010 and prior to that practiced in commercial litigation, public law and health law at a national law firm.
Cara graduated from McGill University in 2001 with an Honours degree in Political Science and received her LL.B. from Osgoode Hall Law School in 2004. She articled as a law clerk to the Honourable Justice Ian Binnie at the Supreme Court of Canada before being called to the Ontario bar in 2005. Cara also received her Master of Laws degree from New York University, as an Arthur T. Vanderbilt Scholar.
Noa Mendelsohn Aviv
In this digital story, Noa Mendelsohn Aviv discusses the importance of Canada's Charter of Rights & Freedoms to her work as Executive Director and General Counsel at the Canadian Civil Liberties Association (CCLA). Whether it is defending people's right to wear religious symbols, to not be racially profiled, to express themselves freely, to uphold their privacy, or to simply be treated equally, Mendelsohn Aviv's work is consistently inspired and supported by the unique Canadian document called the Charter.
Noa Mendelsohn Aviv - Bio
Noa Mendelsohn Aviv joined the CCLA in 2002 and has directed both CCLA's Equality and Freedom of Expression programs, writing, appearing and advocating on such issues as refugee protection, 2SLGBTQI+ rights, racial profiling, reproductive justice, freedom of expression, religion, and the intersection of rights. Noa has stewarded litigation for the organization, including CCLA's Bill 21, abortion access, and solitary confinement challenges, and dozens of interventions in courts across the country. She has appeared before Parliamentary and provincial legislative committees and other public bodies. Noa has also initiated creative advocacy projects to support, engage and empower marginalized communities, and provided guest lectures and workshops through CCLET's public education project. She frequently engages the public through opinion pieces, blogs, and commentary in the media.
Camille Labchuk
In this digital story, animal rights lawyer Camille Labchuk shares how the Charter of Rights is integral to her role as Executive Director of Animal Justice, a nonprofit dedicated to advocating for the humane treatment of animals. Since animals don't have standing in court or legal rights per se, Camille explains how she relies on challenging government laws that undermine human rights as they intersect with animal issues. Whether fighting to protect farm animals or dolphins in aquariums, the Charter gives animal rights advocates one more tool to prevent cruelty and improve the lives of animals in Canada.
Camille Labchuk - Bio
Executive Director of Animal Justice, Camille is one of Canada's leading animal rights lawyers, and has worked to protect animals for over 15 years. As a lawyer, Camille seeks out cases that enhance the legal interests of animals, expose hidden animal suffering, and result in meaningful policy changes. As an advocate, Camille's work includes documenting the commercial seal kill on Canada's East Coast, exposing cruelty in farming, protecting the free speech rights of animal advocates, and campaigns against ag gag laws, trophy hunting, circuses, zoos, aquariums, shark finning, puppy mills, and more.