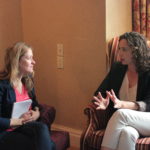 We live at a moment in history that requires us to act and I want to be able to look at my grandchildren and say 'I did everything I could' and I'm sure most people do too
Last week we sat down with Tzeporah Berman, one of Canada – and the world's – foremost champions of the environment. Though she initially studied fashion design in university, Berman soon found her true calling in the forests of British Columbia. In fact, one of her first acts of environmental activism – an act intimately associated with her name to this day – was as coordinator of one of the largest civil disobedience in Canadian history, the logging blockades in Clayoquot Sound during which she was arrested and charged with 857 counts of criminal aiding and abetting.
Her bio is a strong testament to the inspired work she's tackled head-on in this field: Co-founder and Campaign Director of ForestEthics, Executive Director and Co-founder of PowerUp Canada, Co-director of Greenpeace International's Global Climate and Energy Program. She currently works as a strategic advisor for dozens of environmental organizations, First Nations and philanthropic advisors on clean energy, oilsands and pipelines.
Elisa asked Tzeporah about her 20 years of activism since that first foray in Clayoquot. She shared the ups and downs, the challenges that caused frustration in the past and the new struggles she's staring down today. Tzeporah talked about the evolving nature of environmental activism – from blockades to the boardrooms, from silos to forging invaluable partnerships and from a focus on the forest to concern with the tar sands and a more holistic view of environmental and social change.
Stay tuned for the video and digital pieces coming soon.