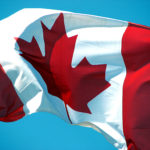 Canada History Week is kicking off this Canada Day July 1. To mark the occasion, SEE Change Magazine invites you to take a peek at our current multimedia project, the History of Social Change.
We've also produced a series of memes to celebrate how far we've come in Canada. Whether with the Women's Right to Vote or Marriage Equality, thanks to a host of changemakers, activists and political leaders, Canada has made some significant strides over the years and there's no better time to commemorate social change.
Inspired by a generous grant from Heritage Canada and the support of sponsors like SiG National and a wonderful team of writers and producers, the History of Social Change is documenting social change movements in Canadian history – and the changemakers at their heart – that have impacted how we live today.
With the help of sponsors Aeroplan and VIA Rail, SEE Change Editor Elisa Birnbaum has been traveling across Canada interviewing and shooting footage with experts and representatives of significant movements that have transformed our social landscape – e.g. Medicare, Marriage Equality, Suffrage, Environment, Indigenous Self-Governance and the Social Economy. Interviewees so far include: Paul Martin, the Michaels, Roy Romanow, Olivia Chow, Sid Ryan, Joel Solomon, Bill Darnell, Tzeporah Berman and the list goes on.
Along the way, we're asking some important questions: Why did the movement begin? Who are its key players? What were their challenges, their successes? Where are they now? The answers and stories may surprise you, offering a fresh perspective on the country you call home!
Eventually all our stories will be published on our special microsite and produced as an e-book and DVD. But this week, to celebrate History Week, we're giving you a sneak preview. Watch our first digital stories, read through our blogs, listen to our podcasts and share with your friends.
Help us celebrate Canada History Week by joining our History of Social Change movement!