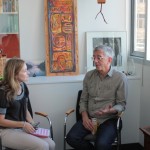 You could say that Tennessee-born Joel Solomon took the road less traveled  – and many in BC and Canada are happy he did. Chairman of Renewal Funds – a (social) venture capital firm that invests in social change by supporting businesses at the forefront of social and environmental innovation – Solomon talked about how he grew up with a father who ran a highly successful business as a shopping mall developer and a mother with strong artistic talent and aspirations.
In his twenties, various opportunities lay at Solomon's doorstep – including working in the family business (AKA 'the popular choice') and in politics thanks to a stint with Jimmy Carter. But, ever curious about life and facing a potentially fatal genetic kidney disease, Solomon moved to B.C. and proceeded to carve a unique life, one that melded a business mindset with a social conscience – seemingly taking a piece from each of his parent's personal narratives in establishing his own path.
A strong believer in the need to shift capital to the solutions economy and the importance of balancing ecology and society, Solomon's activities go beyond Renewal Funds. Most importantly, he's the board chair of Hollyhock, an internationally renowned centre for learning located on the deliriously gorgeous Cortes Island, B.C. that offers over 100 social learning programs and conferences. He spoke about the importance of Hollyhock, what it means to his life and his long-term vision.