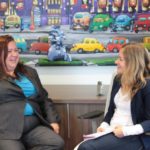 When it comes to Indigenous rights and the struggle for self-governance and determination, Kim Baird stands as a true testament to what's possible. Elected Chief of the Tsawwassen First Nation for six terms, from 1999-2012, Baird was responsible for negotiating and implementing British Columbia's first urban modern treaty on April 3, 2009. Since then, she's overseen a number of economic and institutional development projects for TFN.
Playing the part of changemaker doesn't come without its critics, of course. Baird faced criticism when she set in motion Tsawwassen First Nation's economic development plans. Yet, she stood strong, initiating the Tsawwassen Mills project, a commercial real estate development, on Tsawwassen First Nation lands, with an estimated price tage of $780 million.
Not surprisingly, Baird received a number of prestigious awards over the years, including a honourary doctorate degree from Simon Fraser University, Canada's Top 40 Under 40 Award, the National Aboriginal Women in Leadership Distinction Award, Canada's Most Powerful Women Top 100 Award. Most recently, Baird was named to the Order of Canada.