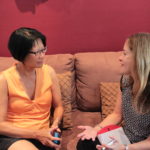 Olivia Chow is a Canadian politician, a former New Democratic Party Member of Parliament, and former city councillor in Toronto. A tireless activist, Chow has carved an impressive reputation for fighting to uphold the rights of everyday citizens, including immigrants to the country, a battle partly inspired by her own immigrant story, having moved from Hong Kong to Canada in 1970 at the age of 13.
Some of her battles ran a long time.  For over 20 years, for example, she led ultimately successful campaign to achieve a national apology and redress for the discriminatory "Chinese Head Tax" (a fixed fee charged to each Chinese person entering Canada). She has also been a vocal proponent for immigration policy reform, believing more needs to be done to fix a broken system, one that makes it hard for entire families to move to the country together.
In May 2012, Chow was named one of the top 25 Canadian immigrants in Canada by Canadian Immigrant Magazine.  And it was a true honour to spend time with the politician and activist at her home in Toronto, the same home she shared with the late Jack Layton – whose legacy was felt in various treasured objects in the house. She shared her personal story, struggles and achievements and her impact on social change in Canada.